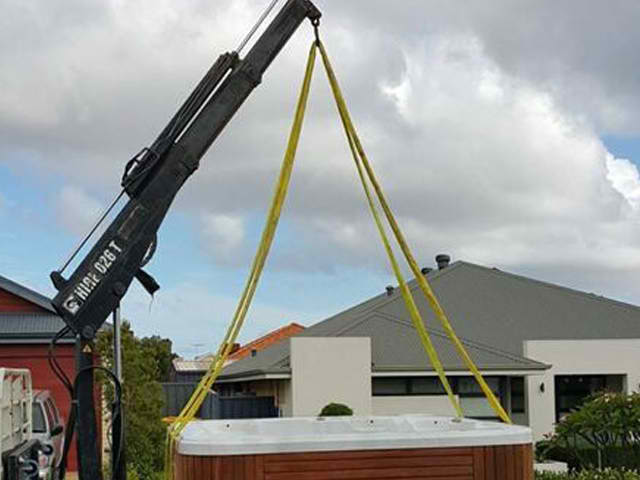 Hot Tub Moving Experts in Summerville, SC
If you are looking for convenience and quality when moving a hot tub in Summerville, SC, look no further than Hot Tub Moverz. With expertise in hot tub relocation, we are confident we can provide the high-value services customers deserve. Our team of expert spa movers understands that customers need a seamless spa-moving experience that matches the comfort and quality of life in Summerville, SC. Check out our hot tub moving services and book one today!
A Vibrant Town That Has Plenty of Hidden Gems to Discover and an Ideal Retreat for A Relaxing Hot Tub
Summerville, SC is an enchanting town that appeals to both travelers and residents alike. Renowned as the 'Flower Town in the Pines', this place offers a diverse range of attractions, historical charm, and hotels offering traditional amenities. Moreover, its scenic streets, lush gardens, and the warm hospitality of its locals create the perfect ambiance. As the birthplace of Sweet Tea, Summerville never disappoints when it comes to southern dishes. 
With a welcoming community, this town is home to excellent golf courses, skate parks, and numerous outdoor recreational areas, making it a great place to also enjoy a hot tub after a fulfilling day of activities! And when it comes to Summerville hot tub moving needs, you can trust Hot Tub Moverz.
Choose Hot Tub Moverz for Your Spa Hauling Needs in Summerville, SC
As a hot tub moving company in Summerville, we are dedicated to providing combined expertise and convenience from start to finish. We make moving hot tubs a breeze, just like the fresh breeze Summerville, SC has to offer.
With a team of expert hot tub movers in Summerville, SC, and state-of-the-art equipment, you can rest assured that the hot tub delivery process will be smooth and secure.
Specializing in spa relocation and delivery, our goal is to provide the best hot tub moving service in all of Summerville, SC. We focus on our clients and perform beyond their expectations from start to finish. Hot Tub Moverz will make the experience seamless and cost-effective!
Each hot tub move project is unique, therefore, we offer a range of specialized services to suit our clients' needs. Our services in Summerville include on-site hot moving, disposal, and relocation. We are also able to handle any specialties your hot tub may have. Whatever your specific needs may be, Hot Tub Moverz has you covered!
Hot Tub Moving Services for Your Summerville, SC Spa Hot Tub
<br /> On-site Hot Tub Moving
When you need to move a spa or hot tub within the same premises, book this service with us. Our team relies on a range of reliable tools, equipment, and techniques to provide the work with the utmost safety and efficiency. 
Hot Tub Delivery
Do you have a new hot tub that needs to be transported to your home? Our hot tub delivery service is what you need. We will transport your hot tub from the retailer or manufacturer straight to your desired location. We understand the importance of handling hot tubs with delicate care, so we take every precaution to guarantee a worry-free service.
Hot Tub Relocation
In case you require a service to handle the transportation of your hot tub to another property, book this service. Our expert spa movers are here to assist you with dismantling the hot tub, preparing it for relocation, and reassembling it at its new location.
Hot Tub Disposal
When it comes to unwanted, old, or broken hot tubs, there is a proper way to dispose of them. To avoid unnecessary hassles and the tedious task of cutting the hot tub into pieces for disposal, call Hot Tub Moverz. We have responsibly dismantled and disposed of many non-functioning hot tubs at a proper disposal site.
Specialty Moving
Do you have a customized or specialty hot tub that needs to be moved? Hot Tub Moverz offers the right solution for you. We are capable of relocating spa hot tubs that have unique features or are larger in size.
Your satisfaction is paramount to Hot Tub Moverz. We are committed to being the premier choice for hot tub moving services in Summerville, so we have assembled a team of experts and highly trained individuals to achieve it. Contact us to get a free hot tub delivery quote or to discuss the service you need.
Summerville, SC Hot Tub Moving Process
Our expert hot tub movers will assess your spa hot tub and make the necessary preparations for relocation.

We will carefully plan ahead to determine the best approach for dismantling, lifting, and transporting the hot tub.

We will take into consideration the accessibility of the location, possible challenges, and how to avoid mistakes that could cause unnecessary damage.

We will ensure that padding and straps are used to secure the hot tub in the truck or trailer.

Safety precautions will be employed to mitigate risks and prevent any movement of the hot tub during transit.

The same level of care is maintained when unloading the hot tub at the new destination.
Summerville's Hot Tub Relocation Experts
Hot Tub Moverz is dedicated to giving spa hot tub owners in Summerville, SC a stress-free hot tub move. Our main goal is to put the needs of our customers first and provide a completely hassle-free service. We aim to consistently surpass customer expectations.
We stand out from competitors by focusing on client needs and providing safe and efficient services. We continuously develop unique hot tub solutions that suit the needs of our customers. Moreover, we emphasize building strong relationships with our local partners and customers.
Get in Touch with Us for a Swift and Secure Summerville Hot Tub Moving
When you are ready to relocate to a spa or hot tub in Summerville, SC, contact Hot Tub Moverz. We will work around your calendar to find the perfect day and time for your spa relocation. Our team of expert hot tub movers will handle every aspect of the hot tub delivery, spa move, or disposal. Request a free hot tub moving quote from us or book the service you need today! Working Hours
Monday-Saturday 8am-5pm.