Hot Tub Delivery
Myrtle Beach, SC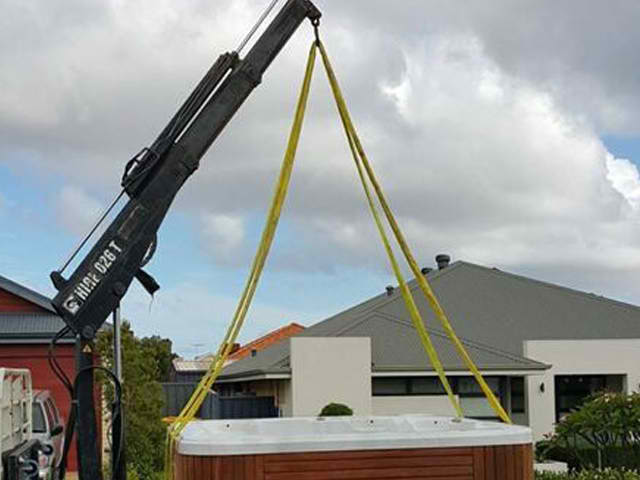 We at Hot Tub Moverz understand that delivering and installing hot tubs can sometimes be complex and challenging. Whether you need to move the unit across town or the country, there are often different challenges that only call for expertise handling.
So we offer professional hot tub delivery services while ensuring the unit gets to your desired location safely and within the shortest time possible.
When you buy or need to deliver a hot tub in Myrtle Beach, SC, our delivery team will ensure it is fully installed and bubbling – ready to use before they leave your property.
Why Choose Our Professional Hot Tub Delivery?
Experienced Professional Team
With our consistent fast and efficient hot tubs delivery, at Hot Tub Moverz we have built a reputation as the best hot tub delivery company in Myrtle Beach, SC. Moreover, we ensure our team members get frequent specialized training to equip them with the knowledge to handle hot tubs of all types and sizes. So we have the expertise to ensure the hot tub is delivered and installed correctly.
Safety and Security
Our years of experience handling hot tubs will save you from all frustrations that come with costly repairs and replacements of a damaged hot tub. Our team will therefore work with a lot of care for the safety and security of your hot tub. So, we have enough safety and security features to ensure your hot tub is delivered without damage.
Efficient and Reliable Service
We value your work and other engagements that may mean you don't have time to wait around. Our team will, therefore, manage and handle the hot tub as our own to ensure we deliver the unit on time without any issues.
In addition, we strive to offer you better service by ensuring we have clear communication, timely responses to inquiries, and a willingness to go above and beyond to ensure that you are satisfied.
Affordable Pricing
We will work on providing a better service at a reduced price to help save on your overall service cost. So we'll offer you better value for your money and let you enjoy additional services, including setup and installation, without worrying about breaking the bank.
How do I prepare my hot tub for delivery?
Answer: To prepare your hot tub for delivery, you must ensure clear access to the hot tub. You may need to clear off any obstructions, such as furniture or plants, for a clean and clear path around the unit.
Will the delivery team install my hot tub?
Answer: Yes, our delivery team will install your hot tub. We'll leave your property after the hot tub is set up and safe for use.
How long does the delivery process take?
Answer: The delivery process of your hot tub may vary depending on the location and the complexity of the installation. So we may not have a clear timeframe but for a shorter distance, it may take 2 to 4 hours.
Do I need to be physically available for the delivery and installation?
Answer: You or a representative may need to be present for the delivery and installation process. However, in some cases, we understand our client's busy schedules and may excuse them for work, but we'll keep them engaged with detailed communication on the delivery status.
Hot Tub Moverz is here to make your hot tub delivery easy and stress-free, so contact us today to schedule your hot tub delivery and installation. Working Hours
Monday-Saturday 8am-5pm.